Advances and trends in multiligament injuries of the knee relevant to low-resource settings
1
Department of Orthopedic Surgery

,

University of Cape Town, Groote Schuur Hospital H49 OMB, Cape Town

,

South Africa
2
Department of Orthopedic Surgery

,

University of New Mexico, Albuquerque, New Mexico

,

United States

*
Corresponding author: Michael F. G. Held, Department of Orthopedic Surgery, University of Cape Town, Groote Schuur Hospital H49 OMB, Cape Town, South Africa. michael.held@uct.ac.za
Received: , Accepted: ,
© 2020 Published by Scientific Scholar on behalf of Journal of Arthroscopic Surgery and Sports Medicine
Licence
This is an open-access article distributed under the terms of the Creative Commons Attribution-Non Commercial-Share Alike 4.0 License, which allows others to remix, tweak, and build upon the work non-commercially, as long as the author is credited and the new creations are licensed under the identical terms.
How to cite this article: Held MF, North D, Von Bormann RB, Wascher DC, Richter DL, Schenck RC. Advances and trends in multiligament injuries of the knee relevant to low-resource settings. J Arthrosc Surg Sport Med 2020;1(1):118-125.
Abstract
Recent advances in the management of multiligament knee injuries have led to improvements in diagnosis and management and allowed enhanced understanding of the biomechanics of ligament reconstructions. Most studies arise from subspecialist knee centers in high-income countries and can inform global strategies, but each patient encounter and environment is unique and not all recommendations may be feasible in every setting. For ligamentous injuries, the gold standard is acute arthroscopic, single-stage ligament reconstruction, although this is not always possible in the limited resource setting (LRS). For these circumstances, non-operative management, although rarely promoted, may be preferred in selected patients. Furthermore, acute surgery relies on adequate post-operative physiotherapy, otherwise a delayed surgical approach should be considered. Reconstruction remains the gold standard, but acute repair is an option for medial collateral and posterior cruciate ligaments and for avulsion fractures. For a vascular examination, a careful clinical assessment and routine angiography should be done in LRS. Due to the heterogeneity of injury and patient profile, outcomes vary widely and need to be interpreted in the context of the surgical setup. The main complications of these injuries are stiffness, residual laxity, and surgical site infections. Future trends will need to include a global perspective and provide solutions for surgeons in various parts of the world.
Keywords
Knee dislocation
Multiple knee ligament injury
Multiligament knee injuries
Limited resource setting
INTRODUCTION
Multiligament knee injuries (MLKIs) have been described as the disruption of two or more of the main ligaments of the knee[1,2] caused either by a dislocation or substantial subluxation. Although rare, it is a devastating injury with associated damage to other structures and often results in long- term disability. The priority in MLKIs is to manage limb threatening injuries to large vessels and soft-tissue integument; however, ipsilateral fractures and nerve injuries can further complicate treatment. The recovery of knee function is mainly dependent on the stability and motion of the knee joint, which is determined by capsular-ligamentous integrity. Schenck (ICL 1994) has proposed a widely used system, which was later modified by Wascher[3] [Table 1] to classify these injuries based on the anatomic structures torn. Yet, the complex trauma load of orthopedic and non-orthopedic injuries, as well as certain patient factors, creates heterogeneous injury patterns which make controlled research trials difficult. This results in the best available research being descriptive, retrospective studies with low level of evidence.
| Type | Description |
| --- | --- |
| I | Injury to a single cruciate ligament (ACL or PCL), variable collateral ligament involvement |
| II | Injury to both cruciate ligaments (ACL and PCL) with intact collaterals |
| IIIM | Injury to the ACL, PCL, and medial collateral ligament and posteromedial corner |
| IIIL | Injury to the ACL, PCL, and lateral collateral ligament and posterolateral corner |
| IV | Injury to the ACL, PCL, medial collateral ligament and posteromedial corner, and lateral collateral ligament andposterolateral corner |
| V | Multiligament knee injury with periarticular fracture |
| C | Modifier for arterial injuries |
| N | Modifier for nerve injuries |
This article summarizes the key points of the current literature on MLKIs, which mostly originates from high-income countries and sub-specialized knee centers. It specifically focuses on associated injuries, conservative and operative treatment options, timing and staging of surgery, reconstruction techniques, surgical repair and graft options, as well as patient outcomes. Although important advances have been made in knee arthroscopy, ligament reconstruction and patient management, recommendations are not always applicable in settings with limited resources available. Challenges encountered in these situations include long delays to presentation, as well as the lack of sufficient access to operating room time, arthroscopic equipment, newer fixation devices, and allografts. Patients are often uninsured; work informally as manual laborers and their access to physiotherapy is very limited. This article aims to provide an approach for surgeons practicing in these limited resource settings (LRS).
ASSOCIATED INJURIES
The majority of MLKIs occur as a result of high-velocity trauma and severe injuries to the head, chest, and abdomen as well as remote fractures are often seen in these patients. A thorough prioritized trauma evaluation is mandatory in all patients with high-velocity MLKIs.[4-6] The momentary deformity during a knee dislocation causes significant traction forces on important juxta-articular soft-tissue structures [Figure 1].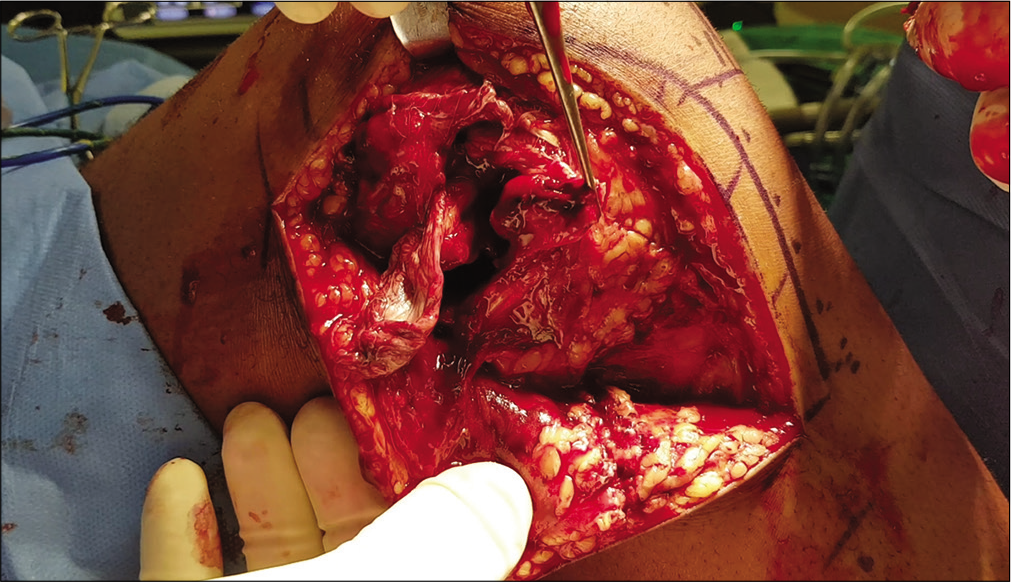 After excluding life-threatening injuries, the limb should be assessed for open wounds, neurovascular injuries, and extra- articular fractures [Figure 2].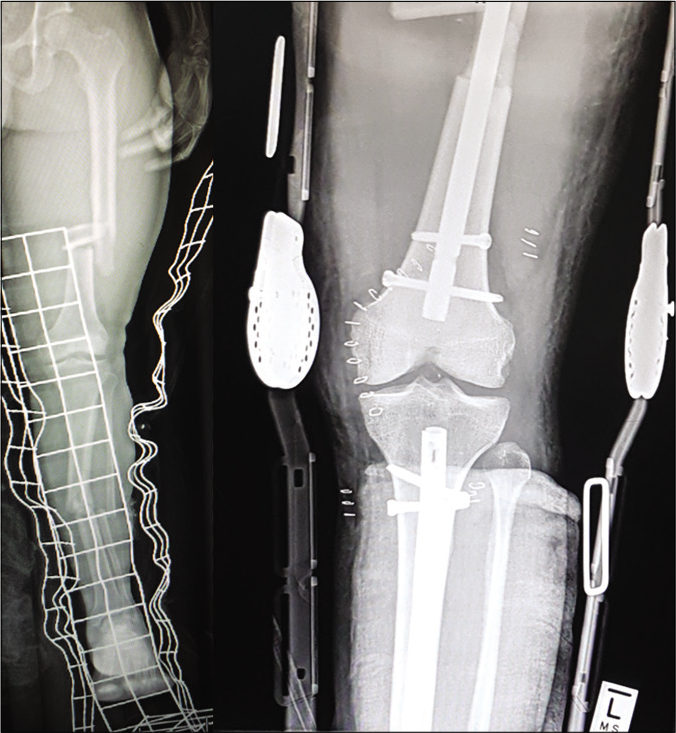 The reported prevalence of associated vascular injuries ranges from 3% to 64%.[3,5] Urgent reperfusion is key as the amputation rate can reach up to 86% when it is delayed for more than 6–8 h post-injury.[7,8] Although vascular compromise is the single most important red flag to exclude, the diagnostic workup remains controversial. Many centers have adopted selective angiography as a gold standard, which recommends further investigation only when the ankle-brachial (blood pressure) index is <0.8, or when there is an expanding popliteal hematoma.[9-12] In many centers, this is not feasible due to the lack of sufficiently trained staff available for frequent reassessments and future trends will likely see hospitals adjust these protocols. Routine angiography has value as it can categorically exclude vascular disruption, in particular intimal flap tears which can lead to delayed occlusion. A single-shot arterial, on-table angiogram before surgical exploration, is a low-cost alternative to evaluate limbs with an absent pulse, active bleeding, expanding hematoma, a popliteal bruit, or distal ischemia.[13]
Nerve injury is frequently associated with vascular injury and should be seen as a red flag for vascular injury, even with normal ankle-brachial index.[5] Similar to the vessels, the peroneal nerve is also tethered proximally and distal to the knee and is therefore commonly injured with an incidence of 25–35%.[5] Surgically, early neurolysis is recommended to decompress an incomplete injury. Nerve grafts for a segment <6 cm can be considered but the outcomes remain poor.[14] A posterior tibial transfer can treat a disabling foot drop which does not recover after 1 year.[5] Future trends may include an earlier restoration of ankle dorsiflexion before knee ligament reconstruction to improve the initial rehabilitation process. This also avoids knee hyperextension associated with a foot drop, which can potentially lead to increased load on ligament reconstruction.
CONSERVATIVE TREATMENT VERSUS SURGICAL MANAGEMENT
Overall, literature shows improved outcomes for MLKIs treated surgically compared to those treated non-operatively.[15,16] In a comprehensive review, patients treated surgically had improved functional outcome measures, developed fewer contractures and residual instability, and returned to work and sporting activity faster.[15] For these reasons, most surgeons only consider conservative management for patients who are frail or unfit for surgery. However, we realize that non-operative management is commonly used in settings with limited resources, and foresee a trend that it will begin to receive more attention in a specialized patient population. Acceptable outcomes [Figure 3] can be achieved with closed reduction and immobilization for a period of 4–6 weeks in patients who comply with non-weight bearing. But regular radiographic follow-up is important to assess for loss of reduction [Figure 4].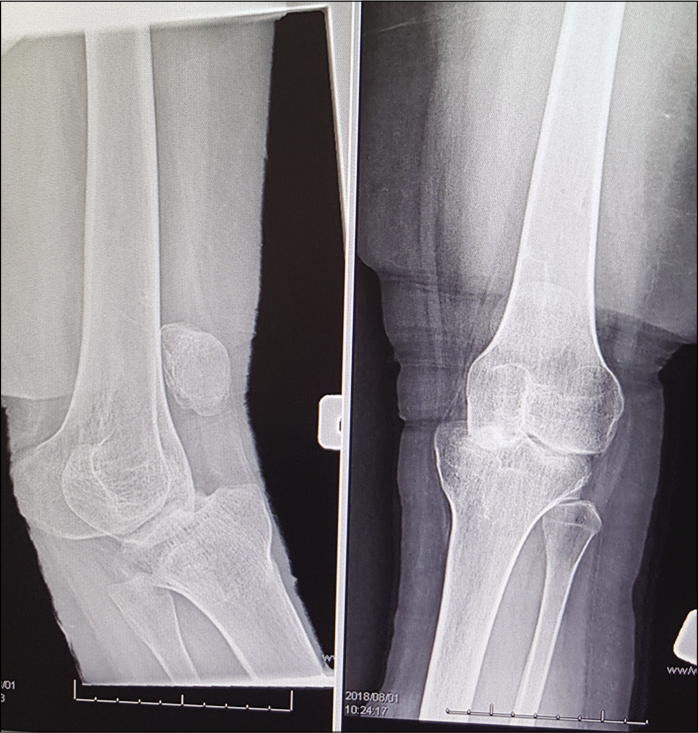 Immobilization in the form of a rigid cast should also not exceed 6 weeks as it can lead to permanent loss of motion.[17] In the morbidly obese, open injuries, vascular injuries, and patients unable to comply with rehabilitation protocols, definitive surgical treatment can take the form of an external fixator for 4–6 weeks. A manipulation under anesthesia with or without arthroscopic lysis of adhesions at the time of removal usually improves range of motion, but care should be taken to avoid complications that may be associated with pin site sepsis, especially if further ligament reconstruction is planned.
TIMING AND STAGING OF SURGERY
The timing of surgical reconstruction in MLKIs is controversial and both acute and delayed management may lead to similar outcomes.[18] Acute surgery is arbitrarily defined as performing surgery within 3 weeks from the date of injury. After this time frame, scarring may obscure the injured ligaments and peroneal nerve, making soft- tissue planes more challenging to define and nerve dissection similarly more difficult. The advantage of acute reconstruction or repair of ligaments leads to an earlier restoration of normal joint kinematics and in combination with early post-operative mobilization protocols; this may lead to better functional outcomes.[19] It also avoids the increased incidence of meniscal and cartilage injuries associated with the delayed surgery.[6,20] The disadvantage of acute surgery is the increased risk of residual instability associated with repairs,[21,22] especially of the posterolateral corner (PLC), and increased risk of arthrofibrosis.[23]
Delayed reconstruction, on the other hand, may allow some extra-articular ligaments to heal and full range of motion to be recovered before surgery. Overall, most authors agree that early post-operative rehabilitation is the single most important factor influencing outcome. Thus, future trends will likely focus on improving rehabilitation and base the decision of acute versus delayed management on the access to and quality of physiotherapy. As such, for most LRS, delayed management is a common strategy to avoid stiffness and allows collaterals and the posterior cruciate ligament (PCL) to potentially heal which will avoid additional ligament reconstruction in some patients.
OUTCOMES
Following surgical treatment of MLKIs, good functional outcomes and ligament stability are reported at short to medium term follow-up.[48-50] However, it is critical to discuss expectations and goals with the patient, understanding that this will never be a "normal" knee. Despite good functional outcomes, there is a high incidence of osteoarthritis developing in the affected knee, ranging from 23% to 87%.[49,50] Factors associated with an increased risk of osteoarthritis are high energy injuries,[48] age over 30 years,[50] and associated cartilage or meniscal injuries.[51] There is a considerable risk of complications in MLKIs ranging from 6% to 73.9%.[1,24,48,52] The incidence of surgical complications varies depending on the severity of the injury, the treatment used, and patient factors such as obesity [Figure 8].[30,49] Some of the more commonly described complications include neurovascular injury, infection, arthrofibrosis, deep venous thrombosis, recurrent instability, and compartment syndrome. Post-operative infections occur in up to 17% of patients,[24,52] and is associated with increased surgical time, obesity, and diabetes mellitus.[51]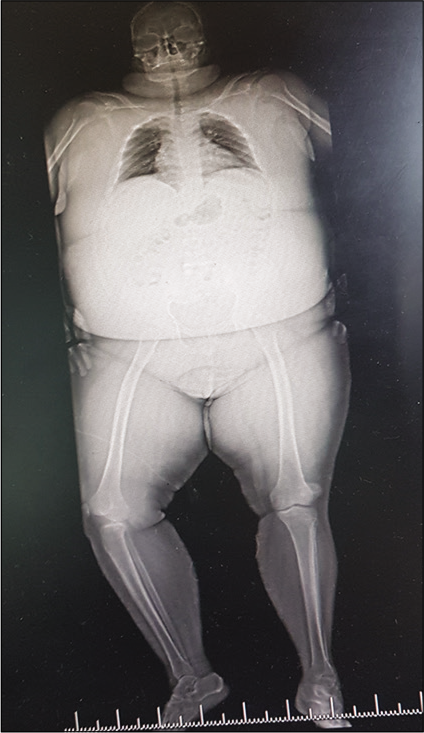 Perioperative antibiotics should be routinely utilized. Post- operative arthrofibrosis is also common, with up to 20–25% of cases requiring either manipulation under anesthesia or arthroscopic lysis of adhesions. Future studies may look at strategies, such as the he use of indomethacin, to try to reduce the incidence of arthrofibrosis. Patients with more than 2 ligaments injured and a surgical intervention within the first 3 weeks have a significantly higher risk of knee stiffness.[51] Deep vein thrombosis and pulmonary embolus are another non-orthopedic complication after a surgical intervention in MLKIs which can be limited with routine thromboprophylaxis with aspirin or enoxaparin.[53]
CONCLUSION
This article provided an overview of recent advances in the management of MLKIs. Vascular examination should include a careful clinical assessment and routine angiography, if available. A large portion of peroneal nerve injuries need tendon transfer surgery which may be done before or after a knee ligament reconstruction. Non- operative management is acceptable for selected patients and in certain circumstances. Acute surgery needs optimal postoperative physiotherapy; otherwise, delayed surgical treatment should be done. Ligament reconstruction is the treatment of choice, but in bony or ligamentous avulsions, early repair can be considered with good healing potential. Current advances should be critically assessed and adopted for the management of MLKIs in LRS to nurture future trends with a global perspective.
Show Sections