Recent advances and future trends in knee arthroscopy
1
Department of Orthopaedics

,

Unity Hospital, Surat, Gujarat

,

India
2
Centre for Sports Medicine

,

Kokilaben Dhirubhai Ambani Hospital, Mumbai, Maharashtra

,

India

*
Corresponding author: Nandan N. Rao, Department of Orthopaedics, Unity Hospital, Surat, Gujarat, India. drnandanortho@gmail.com
Received: , Accepted: ,
© 2020 Published by Scientific Scholar on behalf of Journal of Arthroscopic Surgery and Sports Medicine
Licence
This is an open-access article distributed under the terms of the Creative Commons Attribution-Non Commercial-Share Alike 4.0 License, which allows others to remix, tweak, and build upon the work non-commercially, as long as the author is credited and the new creations are licensed under the identical terms.
How to cite this article: Rao NN, Pardiwala DN. Recent advances and future trends in knee arthroscopy. J Arthrosc Surg Sport Med 2020;1(1):98-109.
Abstract
Knee arthroscopic surgery continues to advance in leaps and bounds. The anterior cruciate ligament (ACL) remains the most controversial structure to be operated on in the knee, and although the enthusiasm for double- bundle reconstruction has waned, there is a definite preference for anatomic reconstruction using an individualized approach. Despite early failed attempts at ACL primary repair, there is a renewed interest in this preservative approach with the application of technologically advanced instruments and implants. The thrust toward meniscal preservation too continues as better understanding of meniscal healing, improved repair techniques, and novel methods to enhance healing have encouraged surgeons to repair tears previously deemed irreparable. Similarly, articular cartilage surgery has advanced with better understanding of cellular mechanisms and the development of newer techniques of cartilage regeneration. Although the focus in the present era has been to restore anatomy with optimal biomechanical constructs, upcoming technology will address biological concerns in healing, especially with degenerate tissues. Future trends in knee arthroscopy include application of scaffolds, orthobiologics, stem cells, and bioreactors to generate personalized, and patient specific autogenous tissue engineered implants. This review article summarizes the latest developments in knee arthroscopy and predicts future trends in this rapidly advancing subspecialty.
Keywords
Knee ligament repair
Knee arthroscopy
Knee cartilage repair
Knee meniscus repair
Recent advances
INTRODUCTION
In recent years, there have been many advances in all orthopedic disciplines, and knee arthroscopy is no exception. These developments in knee arthroscopic surgery have been due to our better understanding of knee anatomy and biomechanics, and in turn, better management of ligament, meniscus, and articular cartilage injuries of the knee. These have been coupled with advances in optical technology, instrumentation, and implants which now enable precise, preservative, reconstructive, and regenerative surgery of the knee. As the science and application of arthroscopic knee surgery grows, we have noted a marked shift toward repairing intra-articular structures such as the menisci and anterior cruciate ligament (ACL) as a means to preserve knee anatomy. Ligaments and menisci not amenable to repair and healing are reconstructed, or transplanted, to restore anatomy. A host of innovative regenerative techniques and cell based technology is also now applied to treat articular cartilage lesions of the knee. This brief narrative describes the recent advances and future trends in knee arthroscopic surgery.
MENISCUS
The importance of the meniscus for normal knee function has been greatly appreciated in the past decade. It is increasingly recognized that it is important to repair, replace, or regenerate injured meniscus to prevent the progression of osteoarthritis. Meniscal preservation using different techniques has been shown to improve the clinical outcomes and delay degeneration. Meniscal repair can be achieved by all-inside, outside in, and inside out techniques and a variety of devices and instruments are available for the same [Figure 2].
Augmentation of meniscus repairs
Even with the latest techniques of meniscus repair failure rates as high as 24% have been reported, and are related to various factors including tear pattern, vascular anatomy, age, and limb alignment. Simple augmentation techniques including trephination, rasping, and abrasion of the synovium have been shown to improve healing in repaired meniscal tears.[54] Techniques such as fibrin clots sutured at the meniscus repair site, and PRP used either alone or with a variety of scaffolds, have given equivocal evidence in clinical studies. Further high level studies are necessary to prove their usefulness.[54] Newer methods which may hold promise are arthroscopic collagen sheath wrapping of complex tears with bone marrow aspirate injected under it, and a chitosan- PRP composite implant.[54]
Meniscal substitution
In some instances meniscus repair may not be feasible, and patients may have segmental, subtotal, or total loss of menisci. In such situations, meniscal substitution in the form of allograft transplant for subtotal or total meniscal loss, and artificial meniscal scaffolds for segmental defects are a viable option. In all these cases, the patient should be between 16 and 50 years of age, with a BMI <35, the knee should be stable with a normal alignment, and the cartilage should be well preserved with a ICRS grade of 2 or less.
CARTILAGE
Cartilage defects and injuries are a formidable challenge in regenerative medicine. Cartilage treatment strategies can be characterized as palliation (chondroplasty and debridement), repair (drilling and microfracture), or restoration (autologous chondrocyte implantation [ACI], osteochondral autograft transfer [OAT], and osteochondral allograft [OCA]).
OATS and ACI
While OAT does result in hyaline cartilage regeneration; it has its own disadvantages, most important being its inability to be used in lesions larger than 3 cm2. ACI has shown excellent results with all three generations [Figure 3]. The present generation of matrix ACI and fibrin ACI has the advantage of three-dimensional culture of chondrocytes which decreases the chondrocyte dedifferentiation noticed with earlier generations of the technique.[61] The key disadvantage of ACI remains that it requires a two stage procedure, and newer generations of this technique will aim toward a one-stage allograft ACI.

Scaffolds
Scaffold based cartilage regeneration can be applied for chondral or osteochondral defects. For chondral defects the defect may be repaired in one or two stages. The two stage technique utilizes the cartilage cells obtained from a normal area of the knee in the first stage, cultured in vitro, and impregnated into a variety of scaffolds. The scaffolds could be porcine collagen matrix, or a variety of synthetic substrates such as polylactic acid and polyglycolic acid, or natural substrates such as hyaluronic acid, collagen derivatives, agarose, alginate, or fibrin glue.[62] Single stage procedures utilize scaffolds impregnated with either fragmented cartilage tissue obtained from a healthy area of the knee or bone marrow. Another approach called as autologous matrix induced chondrogenesis (AMIC) utilizes a porcine collagen matrix to stabilize a blood clot obtained from microfracture. "AMIC plus" adds PRP for further biologic stimulation.
For osteochondral defects, scaffolds have been developed with a two or three layered structure, and are currently under investigation.[62] Similarly, 3D printed personalized scaffolds, nanofiber technology, and hydrogels are being investigated, and would be incorporated in cartilage repair in the future. 4D scaffolds are also an interesting development. These grafts are made from biomaterials which will respond to external stimuli and modify accordingly.[63]
Orthobiologics in focal cartilage defects
The orthobiologics used in cartilage defects are amniotic membrane derived mesenchymal stem cells (MSC), adipose- derived MSC, BMAC, PRP, and growth factors (BMP4 and BMP7).
MSCs either used alone or with scaffolds have shown promise in animal models but have not shown significant benefits in humans. Intra-articular injections of MSC have not been shown to improve outcomes in osteoarthritis.[64]
BMAC contains a large number of growth factors and cytokines which help in cartilage regeneration and healing. It has been used as an adjunct to microfracture alone, microfracture with BMAC and HA, and microfracture supplemented with a scaffold impregnated with BMAC. Human studies with scaffolds have shown complete defect filling in 80–100% of patients.[65] Clinical improvement has been reported in up to 100% patients at 5 years, and on second look arthroscopy was found to have regenerated near normal hyaline cartilage.[66] BMAC also been reported to give better results in OCA transplants in terms of graft incorporation and healing when used as an adjunct.[67]
PRP has shown good results in the treatment of osteoarthritis, but the results are mixed in focal chondral defects. This may be due the non-standardized ways of its preparation and heterogeneous reporting standards. It has been used in conjunction with micronized allograft articular cartilage, fibrin glue, scaffolds, and demineralized bone matrix for osteochondral defects; all with mixed results.[65]
BMP-4 and BMP-7 are the two main growth factors which are tested in animal models and have shown good cartilage growth and hyaline cartilage differentiation.[65]
The role of limb realignment including high tibial osteotomy as an adjunct to cartilage repair is important. The rationale is changing the mechanical axis of the lower limb so as to transfer the body weight across to healthy articular cartilage. Several studies have shown that accurate correction is the leading predictor for success.[68,69]
PATELLOFEMORAL JOINT
Management of patellofemoral joint pathology is challenging as a result of the unique and complex organization of static forces and dynamic factors contributing to its functional capacity. The evaluation and treatment of patellofemoral instability (PFI) is based on static evaluation of the joint. Dynamic evaluation of this pathology may help us give better results. Various developments in this field in the form of cine MRI, dynamic ultrafast MRI, diffuse tension MRI, and its combination with fluoroscopy and ultrasound have given deeper insights into this pathology. Based on these, PFI measurements such as a quadriceps active ratio[70] and modified lateral patellar edge measurement have been proposed.[71] Recently, wearable devices have also been developed for dynamic evaluation of PFI. In future, Level 1 studies need to be developed to test these new diagnostic methods for better development of treatment methods.
The role of the medial patellofemoral ligament (MPFL) and its anatomy have been investigated for many years. Recent studies have defined a more broader medial attachment of the MPFL fanning across the upper half of the patella and the distal medial quadriceps tendon. Hence, this structure has now been called the medial patello-femoral complex. There is considerable variability in this attachment with 57.3% of this complex attached to the patella and the rest attached to the quadriceps tendon.[72] In the skeletally immature patients the femoral origin of the MPFL has a wide variability, with the average origin 4.7–10 mm distal to the femoral physis with the superior most fibers overlying the physis.[73] Fulkerson defined a new entity called medial quadriceps tendon femoral ligament, its attachments, role in lateral patellar stability, and its reconstruction technique. The medial attachment is to the distal quadriceps tendon, and femoral attachment is distal and anterior to the adductor tubercle immediately above the MPFL attachment.[74]
Although the position of the knee during MPFL tensioning is varied; biomechanical studies confirm that a 2N tension with the knee placed in 30–60° of flexion is the best.[75] Practically, tensioning such that a lateral patellar translation of one quadrant is achieved, at 30° knee flexion, is the best way to ensure avoiding over constraining the patella.[76,77] A double-bundle graft has been shown to decrease the graft failure rates from between 10.6%-26.9% in single bundle grafts to 4.5%-5.5% in double bundle grafts.[78,79] Several new techniques have been described to avoid the complications associated with patella tunnels and suture anchors. One such technique utilizes the central quadriceps tendon 10–12 mm in width and 3 mm depth left attached to the patella and rerouted in layer two of the knee to be fixed in the femoral isometric tunnel with an interference screw.[77]
MPFL repair may be indicated in young patients having first time dislocation with a patellar osteochondral fragment which needs fixation, where a distinct rupture from the patella, or less commonly from the femur, can be recognized. Similarly, imbrication of the MPFL may be sufficient in knees where bony realignment procedures have resulted in stable patella in the trochlea with a lax medial retinacular structure.[80]
Patellofemoral cartilage defects
These present unique challenges as patella-femoral joint loads may reach 6.5 times body weight, patella has the thickest cartilage in the body, femoral cartilage may not a good substitute, and an arthrotomy is needed to manage patellar cartilage defects.[81] For this reason, microfracture and bone marrow stimulation techniques have not been able to replicate the good results seen in the tibiofemoral joint. For smaller lesions (<3 cm2) OAT, and for larger lesions (>2 cm2) ACI and OCA have given consistently good results with lower rates of failure seen in ACI (5% vs. 16%). Hence, it is suggested that OCA be reserved for salvage and revision situations.[82] The medial and lateral trochlea which are the usual donors for OATS can be used in these cases for only small patellar defects. Scaffolds for patellar cartilage regeneration have given disappointing results with a 90% failure and 70% re-operation rate. Going forward scaffolds with better stress resistance need to be developed.[82]
Algorithmic approach to recurrent lateral patellar instability
The goals of patellofemoral realignment surgery should be to create both a stable environment for optimal extensor mechanism performance, and an appropriate load transmission for optimal cartilage wear and joint loading. An algorithmic approach has been proposed to deal with all aspects of lateral patellar instability.[83]
For genu valgum more than 10° with more than 1 year of growth remaining a medial femoral epiphysiodesis is necessary. Similarly, if there is excessive femoral or tibial valgus after skeletal maturity then a medial closing wedge osteotomy is necessary

Excessive femoral anteversion >20° and external tibial extorsion should be corrected by derotational osteotomy. Femoral derotation may be performed at the subtrochanteric level or at the distal metaphysis. Tibial torsion is corrected at proximal physis

If alignment is acceptable, the tibial tubercle to trochlear groove distance beyond 20 mm, calculated preferably on CT scan, or less so on MRI, should be corrected to between 10 and 15 mm with an anteromedialization of the tibial tubercle (Fulkerson). Patella alta can be calculated on MRI using the patella-trochlear index or Caton-Deschamps index, which if more than 1.3 should be corrected with distalization of the tibial tubercle

Trochlear dysplasia has been classified into four types. Type A usually does not require correction and only an MPFL reconstruction is sufficient. Types B and D can be treated with sulcus deepening trochleoplasty [Figure 4]. Type C warrants a complex procedure with lack of evidence, and includes lateral facet elevation, proximal recession wedge trochleoplasty, or groove deepening trochleoplasty

MPFL tear requires a MPFL reconstruction as detailed earlier.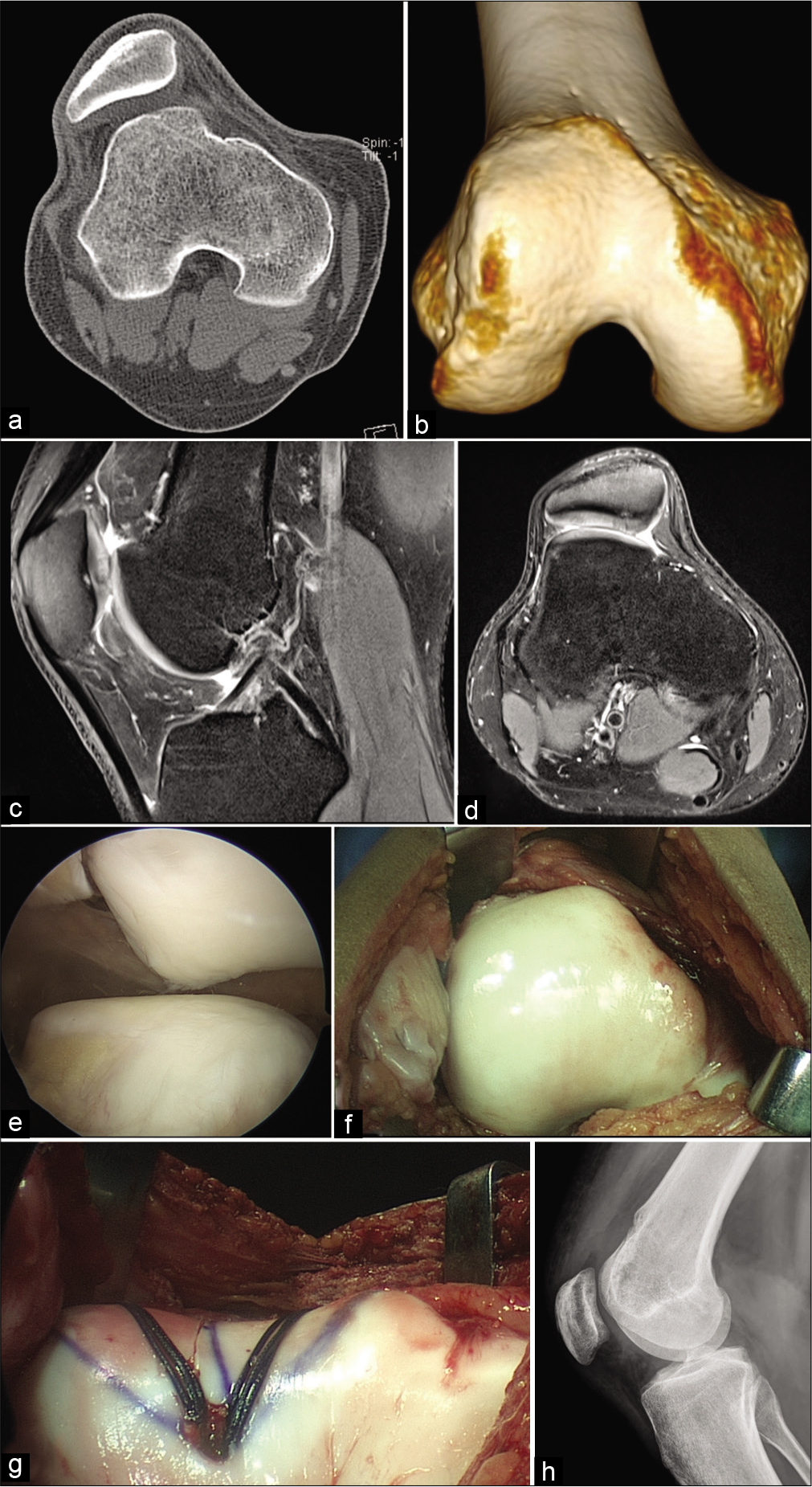 COMPUTER-ASSISTED NAVIGATION IN KNEE ARTHROSCOPIC SURGERY (CANS OR CAS)
Computer-assisted navigation was developed to improve the accuracy of tunnel positioning in knee ligament reconstructions, and enable precise correction in osteotomy around the knee. While there are conflicting reports on its utility, many studies support the use of navigation. The added invasiveness and complexity, along with huge increase in costs, have limited the use of CANS in routine knee arthroscopic ligament surgery.[84]
At present, it is used to study knee kinematics and in the following research applications:
To compare the efficacy of different techniques of ACL reconstruction

To assess the efficacy and need for extra-articular procedures

Scientific tool in studying the pivot shift test

Pre- and post-operative outcomes

For individualizing ACL reconstruction and in difficult revision situations.
ROBOTIC AND IMAGE GUIDED KNEE ARTHROSCOPY
Knee arthroscopy is technically demanding. Current arthroscopes do not provide depth of vision, are rigid, cannot negotiate curved spaces in the knee easily, and have a limited field of vision. All these factors, along with human error, can lead to suboptimal outcomes. While all the advancements given below are in the development stage, advances in robotics can help in the future.[85] There are presently four areas of development: Steerable robotic tools, leg manipulators, miniature stereo cameras, and 3D/4D imaging systems.
Steerable robotic tools have extra degrees of freedom, such as bending and rotation, which help to reach and perform the intended procedure with ease. These will have sensors which will make it easy to detect, and steer the path, to the desired location, and plan the surgery.
Autonomous leg manipulators will have algorithms fed into the system depending on the surgeon preference, type of surgery, and stage of surgery. This along with sensors placed outside the knee, and in the arthroscope, will allow the leg holder to position the knee accurately.
Robotic tools need depth realization to work in space. Hence, miniature stereoscopic cameras are being developed to gain depth information. Along with 3D/4D ultrasound modalities being developed, they will help in mapping the anatomy of the soft-tissue inside and outside the knee such as the ligaments, menisci, neurovascular structures, and tendons to allow for surgery.
An extension of the robotic technology may in the future allow for full autonomous surgery under the supervision of an expert.
CONCLUSION
Recent advances in arthroscopic knee surgery have enabled accurate restoration of anatomy with successful techniques involving repair, reconstruction, and replacement. With research and studies progressing in multiple directions, better outcomes in biological repair and augmentation can be expected in the future. Rapid strides in tissue engineering, regenerative medicine, and understanding of cellular mechanism, may help in the future to obviate the need for harvesting autografts and allografts. Technology may offer individualized human tissue scaffolds to replace ligaments, cartilage, and menisci, if repair at an early stage fails.
Declaration of patient consent
Patients consent not required as patients identity is not disclosed or compromised.
Financial support and sponsorship
Nil.
Conflicts of interest
Dr. Dinshaw N. Pardiwala is on the Editorial Board of the Journal.
Show Sections