Translate this page into:

doi:
10.25259/JASSM_14_2020
Recent advances and future trends in wrist arthroscopy
1
Department of Trauma and Orthopaedics

,

Wrightington Hospital, Hall Lane, Wigan-WN6 9EP, Lancashire

,

United Kingdom

*
Corresponding author: Aparna Viswanath, Department of Trauma and Orthopaedics, Wrightington Hospital, Hall Lane, Wigan- WN6 9EP, Lancashire, United Kingdom. aviswanath@doctors.org.uk
Received: , Accepted: ,
© 2020 Published by Scientific Scholar on behalf of Journal of Arthroscopic Surgery and Sports Medicine
Licence
This is an open-access article distributed under the terms of the Creative Commons Attribution-Non Commercial-Share Alike 4.0 License, which allows others to remix, tweak, and build upon the work non-commercially, as long as the author is credited and the new creations are licensed under the identical terms.
How to cite this article: Viswanath A, Talwalkar S. Recent advances and future trends in wrist arthroscopy. J Arthrosc Surg Sport Med 2020;1(1):65-72.
Abstract
For a long time, wrist arthroscopy has languished behind that of shoulder and elbow arthroscopy. However, over the past two decades, there has been a steady increase in therapeutic wrist procedures undertaken using the arthroscope. While diagnostic wrist arthroscopy is still a useful tool, its therapeutic advantages are starting to stack up against the risks of open wrist surgery – mainly stiffness. It remains a technically demanding procedure, but is clearly in the armamentarium of orthopedic hand and wrist surgeons. Recent advances of dry arthroscopy, arthroscopic reduction and internal fixation, and arthroscopic fusion procedures have changed the face of minimally invasive wrist surgery. The new NanoScope™ along with wide-awake, local anesthetic, and no tourniquet techniques, means that we now can dynamically assess and treat wrist pathology without even encountering the risk of anesthesia. Wrist surgery is evolving, and arthroscopy is right at the forefront.
Keywords
NanoScope
Dry arthroscopy
Recent advances
Wrist arthroscopy
INTRODUCTION
Arthroscopy was first introduced in the early part of the 20th century,[1] but it was not until the 1970s that its clinical application was widely undertaken. As knee arthroscopy was starting to become a routine tool for orthopedic surgeons, Chen described the use of the arthroscope for examining the wrist in 1979.[2] By the mid-1980s, wrist arthroscopy was being used in larger orthopedic units, aided by the instructional lecture in the USA by Roth et al.[3] It has now become part of the armamentarium of the hand and wrist surgeon.
Early publications of the first series of wrist arthroscopies focused on its use as a diagnostic tool[4,5] and the realization that extrinsic ligaments could be appreciated far more easily. It became another rung in the diagnostic ladder of the persistently painful wrist. With reports of it being more sensitive compared with arthrography,[6] it has now become the gold standard for evaluating chronic wrist pain. Slowly, the indications for wrist arthroscopy were starting to emerge. Classifying wrist pain as extra- or intra-articular would be crucial in determining the indication for arthroscopic evaluation.[7] Typical portal sites to be used were clearly defined and the patient setup became largely standardized with some form of traction tower. The procedure is technically demanding, however, and complications mainly related to sensory nerve injury were recognized.[8] Nevertheless, the benefits of arthroscopic wrist surgery were huge in comparison to open surgery, where arthrofibrosis can be a massive drawback.[9]
The use of wrist arthroscopy has allowed us to understand the complexity of the anatomy of the TFCC. By 1996, an arthroscopic classification system of scapholunate (SL) ligament injuries emerged[10] and the complex anatomy of radial-sided ligamentous stabilizers was appreciated. With these soft-tissue lesions now being assessed arthroscopically, it was only a matter of time before the therapeutic options tumbled in. By 2008, 87% of wrist arthroscopies by high- volume wrist surgeons were therapeutic.[11]
For many years, advances in wrist arthroscopy languished behind its proximal neighbors, with elbow and shoulder arthroscopic techniques evolving rapidly. The primary issue seemed to be the small working and the wrist's envelopment by tendinous and neurovascular structures. Although the use of arthroscopy as a diagnostic tool in the knee and shoulder fell away, it was for a long time the major indication in the wrist.[12] Moreover, while wrist arthroscopy may have discreetly lagged behind that of other joints, new innovation in nanotechnology proves that the future of wrist arthroscopy is anything but quiet.
In this review article, we give an overview of the equipment needed, outline the advantages of wrist arthroscopy – both diagnostic and therapeutic, and look to recent trends and future prospects on the horizon.
EQUIPMENT AND SETUP
Although there are some variations in set-up, the basic premise is largely the same. In our institution, we have the patient supine on the operating table, the shoulder is abducted and the elbow flexed to 90°. The hand and forearm are prepped with aqueous chlorhexidine, and two or three digits are placed in sterile fingertraps attached to the traction device. A 5 kg counter weight is hung over the arm, whether a tourniquet is used or not [Figure 1a]. This set-up is adequate for a short procedure, but if the complexity of the case increases and demands more surgical time, a traction tower (such as the acumed arc wrist tower) is required to prevent pressure issues due to the countertraction weight [Figure 1b].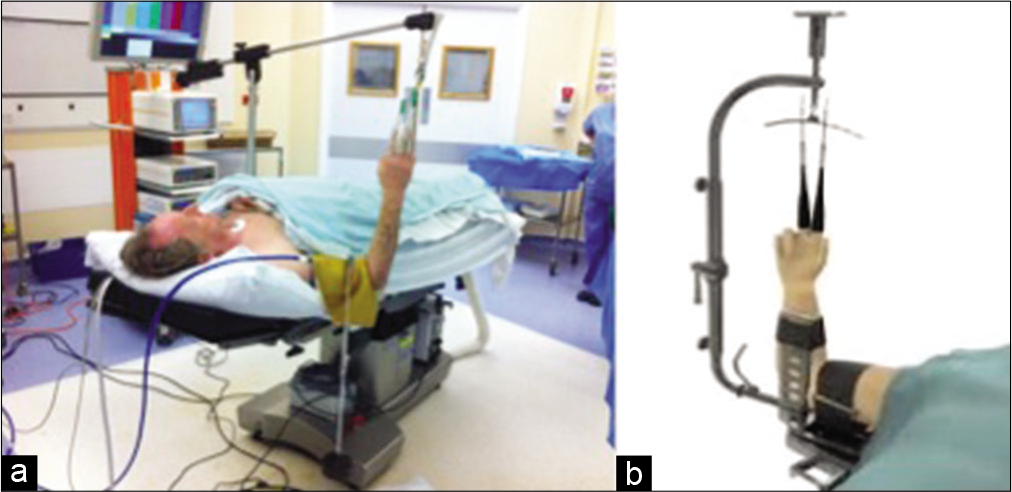 The arthroscope itself can be between 1.7 and 3.0 mm, but usually we utilize the 2.7 mm scope with a 30° viewing angle and an angled 3 mm probe. The irrigation system has a gravity-dependent inflow and manual outflow, with a fluid pump to allow pressures of 30–40 mmHg.
The portals have been well established[5] and the portals are named for the extensor compartment interval they utilize. The main and first portal to create is the 3–4 portal, which allows access to the radiocarpal joint [Figure 2]. The skin is carefully incised through the dermis only, and then, blunt dissection generates the portal itself. The "box concept" proved that viewing and working portals could encircle the whole wrist.[13] In theory, this could allow an infinite number of other portals to be made as long as a good working knowledge of wrist anatomy is borne in mind.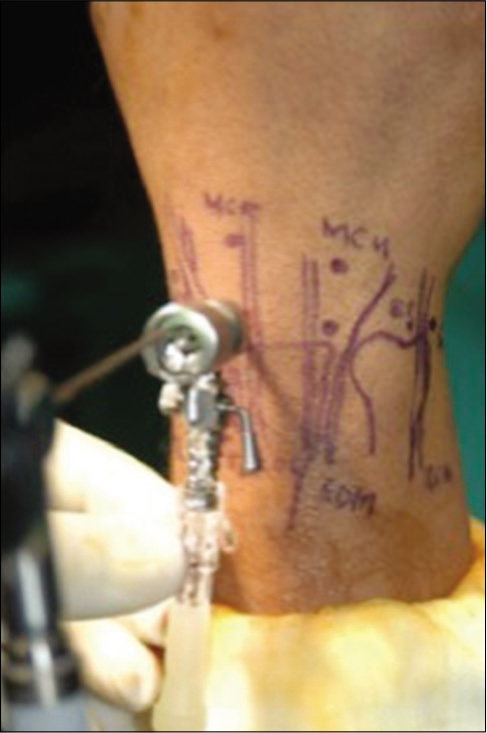 Volar portals have been described, but have not gained widespread use. One of the more useful volar portals is the volar radial (or FCR) portal, popularized by Slutsky.[14] This portal is made through the bed of the FCR tendon at the level of the proximal wrist crease. It has been described as a safe zone, but the palmar cutaneous branch of the median nerve is close, although nearly always lies on the ulnar side of the FCR tendon. This portal is particularly useful in assessing the dorsal radiocarpal ligament.
The volar central portal, as described by Corella et al.,[15] is established through a 1.5 cm incision from distal to proximal wrist crease in line with the third intermetacarpal space [Figure 3]. The mid-carpal portal is developed distal to the anterior horn of the lunate through the space of Poirier and allows access to the entire mid-carpal joint. The advantage of this entry is the reduced risk of damage to the scaphocapitate or triquetrohamocapitate ligaments. Such a portal is beneficial to use when undertaking advanced procedures such as SL ligamentoplasty, arthroscopic proximal row carpectomy (PRC), or arthroscopic limited arthrodesis.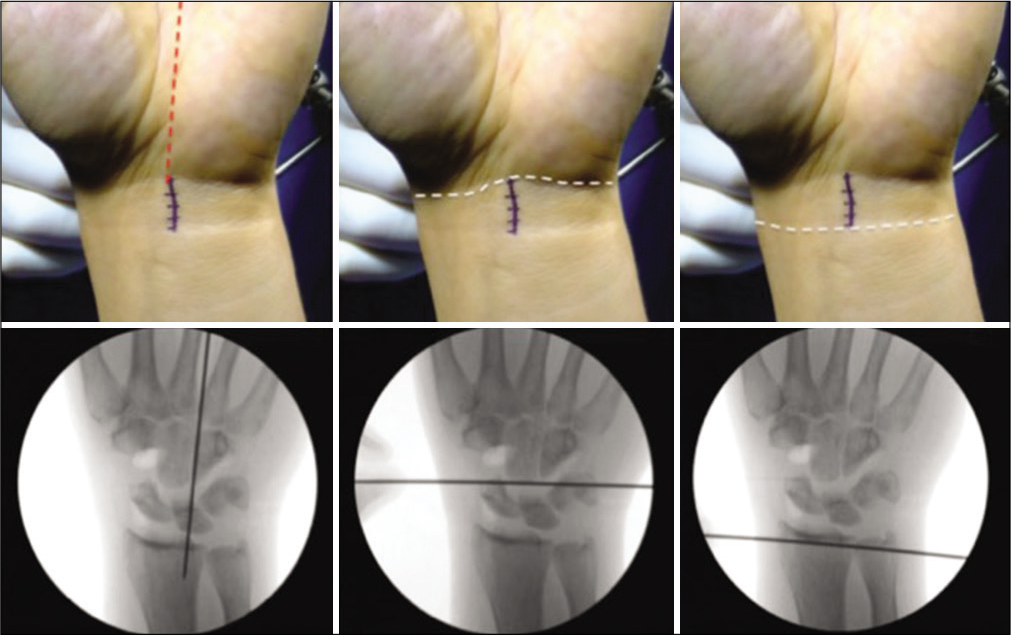 ADVANTAGES OF ARTHROSCOPIC EXAMINATION
The diagnostic value of wrist arthroscopy has been clearly documented,[16] particularly when evaluating a persistently painful wrist likely to be intra-articular in origin. The best candidates for wrist arthroscopy tend to be those with mechanical wrist pain,[17] as TFCC injuries, ligamentous injuries, and cartilaginous lesions can be readily picked up.
TFCC injuries
Asymptomatic TFCC tears are not uncommon, so correlation with a thorough history and examination is vital. Arthroscopic evaluation of the TFCC has been described in many ways,[18-20] all of which test the tension in the ligamentous complex. It, therefore, became possible to classify the injury as per location and reparability. For distal tears, many suturing techniques have been described[21] and arthroscopic treatment is now the mainstay. Clinical outcomes between open and arthroscopic TFCC repair show no statistical differences,[22] and patient-reported outcomes are also satisfactory.[23] For proximal tears or where reattachment to the fovea is necessitated, the options include arthroscopic or open surgery. Arthroscopic assessment allows visualization of the distal radioulnar joint (DRUJ) and potential instability, and if present, whether there is concomitant arthritis. This becomes crucial in determining the next phase of treatment as reconstruction or arthroplasty.
Sports injuries
Athletes pose a treatment dilemma for orthopedic surgeons: They generally are not candidates for activity modification. Their marker of a successful procedure is their ability to continue with professional sport at their pre-injury level. Arthroscopy provides a less aggressive approach to treat wrist injuries and may allow a quicker recovery.[24] In a retrospective study, 13 professional tennis players (WTA and ATP ranking) had wrist arthroscopy after an average career length of 8.4 y.[25] By their post-operative year 2, there was no significant decline ranking compared with pre-injury. The average time to return to professional tennis was 148 days. Compared with the hip, shoulder, and elbow, wrist arthroscopy saw the smallest decline in ranking.
In a military population, wrist pain can adversely affect push-up performance. A retrospective review of arthroscopic thermal shrinkage used for SL ligament instability showed a statistically significant reduction in pain and 86% rate of return to active duty.[26] Even chronic SL tears treated arthroscopically have allowed professional athletes to return to their previous level of play.[27] While the sample sizes are small, these studies show that arthroscopic intervention gives good outcomes with a much quicker recovery period in high- demand adults.
Staging and operative planning
One of the key advantages of arthroscopy is the ability to clearly delineate the stage of cartilage degeneration. It allows for direct visualization of softening, tears, and fibrillation, which may otherwise be missed or underestimated by MR imaging as the cartilage thickness is so much less in the carpus than in the knee.[28] This is slightly different from purely a diagnostic arthroscopy, as it allows for a degree of debridement as well as assessment. Knowing the extent of chondral defects enables a more confident treatment plan, such as progressing to PRC in those with no capitate head lesions. This may now be undertaken in an arthroscopic or open manner.
Keinböck's disease is another condition where probing the lunate for softening or chondral flaps dictates the best treatment option. The Bain and Durrant arthroscopic classification system[29] uses arthroscopic findings to direct surgical options to maintain functional motion. Even where there is no articular compromise, the value of arthroscopy is the ability decompress through arthroscopic forage once no cartilage defect is noted.[30] In a similar way, wrist arthroscopy is beneficial in Preisser's disease also.
CURRENT TREATMENTS PERFORMED BY ARTHROSCOPY
As with most arthroscopic procedures, the initial therapeutic interventions were an extension of the diagnostic procedure, such as joint debridement and irrigation, even in septic joints. As instrumentation became more familiar, loose body removal, synovectomy, and synovial biopsy were all also performed. Below are some of the more common arthroscopic procedures currently widely performed on the wrist.
RECENT ADVANCES IN ARTHROSCOPIC MANAGEMENT
FUTURE TRENDS OF WRIST ARTHROSCOPY
Wide-awake, local anesthetic, and no tourniquet (WALANT)
Hand and wrist surgeons have been using local anesthetic and no tourniquet for open procedures for some years now. Carpal tunnel decompressions are routinely done in this manner, and even Dupuytren's fasciectomies are more commonly being performed through WALANT. The technique for arthroscopic surgery was described in 2012[54] using a small gauge needle, lidocaine mixed with adrenaline and buffered with sodium bicarbonate, and a slow methodical infiltration system. Other than lidocaine hypersensitivity and poor peripheral circulation, there are no contraindications to this technique, although the patient must be compliant. The use of WALANT also allows active dynamic assessment throughout the procedure[55] which enables a thorough assessment of carpal instability. With no tourniquet, the patient is more confortable and without the need for general anesthesia, the cost efficiency is immense.
NanoScope™
Needle arthroscopy is in its infancy, but has been used in the knee and shoulder for medial meniscectomies, labral, and rotator cuff repairs.[56-58] The advantages of single-incision, near scarless surgery are innumerable as long as the right instrumentation is available. A design team from Vanderbilt has recently manufactured a miniature needle-sized instrument with its own "wrist"[59] allowing greater degrees of freedom when instrumenting using the NanoScope™. The small scope in itself has allowed the therapeutic debridement of the trapeziometacarpal joint and the metacarpophalangeal joints.
One of the current problems associated with using the NanoScope™ is the issue of working at a distance [Figure 5]. The instrumentation is still developing and at present, it only has a 0 degree scope with a monitor of relatively poor resolution, compared with the standard stack resolution.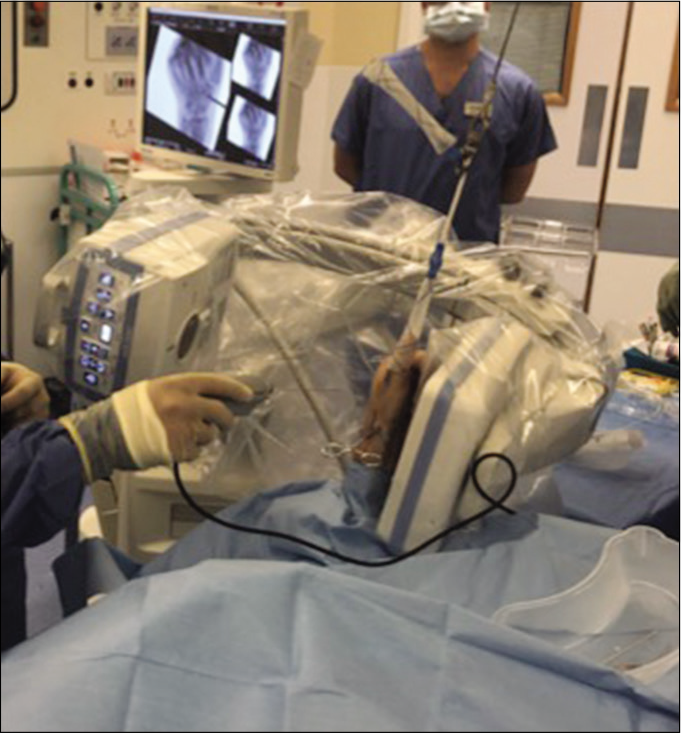 There have been brilliant developments though with a "peekaboo" probe [Figure 6] that has become almost indispensible when using the NanoScope™. This type of innovation applied to other instruments, such as a drill, would certainly drive needle arthroscopy techniques forward at pace and allow assessment and treatment of smaller joints such as the trapeziometacarpal joint.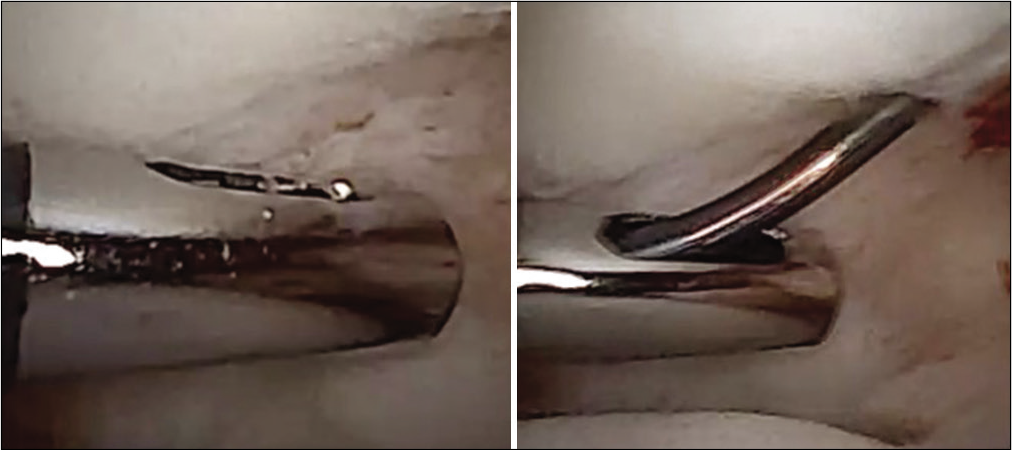 CONCLUSION
Wrist arthroscopy has come a long way over the past decade and has certainly caught up with its more proximal cubital neighbor. What was once known as a purely diagnostic intervention has now firmly landed in the therapeutic corner. Techniques of fracture fixation, bone grafting and ligament reconstruction, have all flourished with the advent of dry arthroscopy. With WALANT now well and truly underway, persistent chronic wrist pain can now readily be diagnosed and treated with minimal risks.
One of the major issues that continue to thwart us is the inability to see around corners. We are also limited by the working length of instruments, which need to be very thin and are, therefore, prone to breakage. New engineering concepts with "peekaboo" instruments and flexible instruments may see that problem slowly disappears. Certainly, the prospect of minimizing post-operative stiffness provides huge impetus to continue to drive arthroscopic advances forward in the wrist.
Declaration of patient consent
The authors certify that they have obtained all appropriate patient consent.
Financial support and sponsorship
Nil.
Conflicts of interest
There are no conflicts of interest.
Show Sections